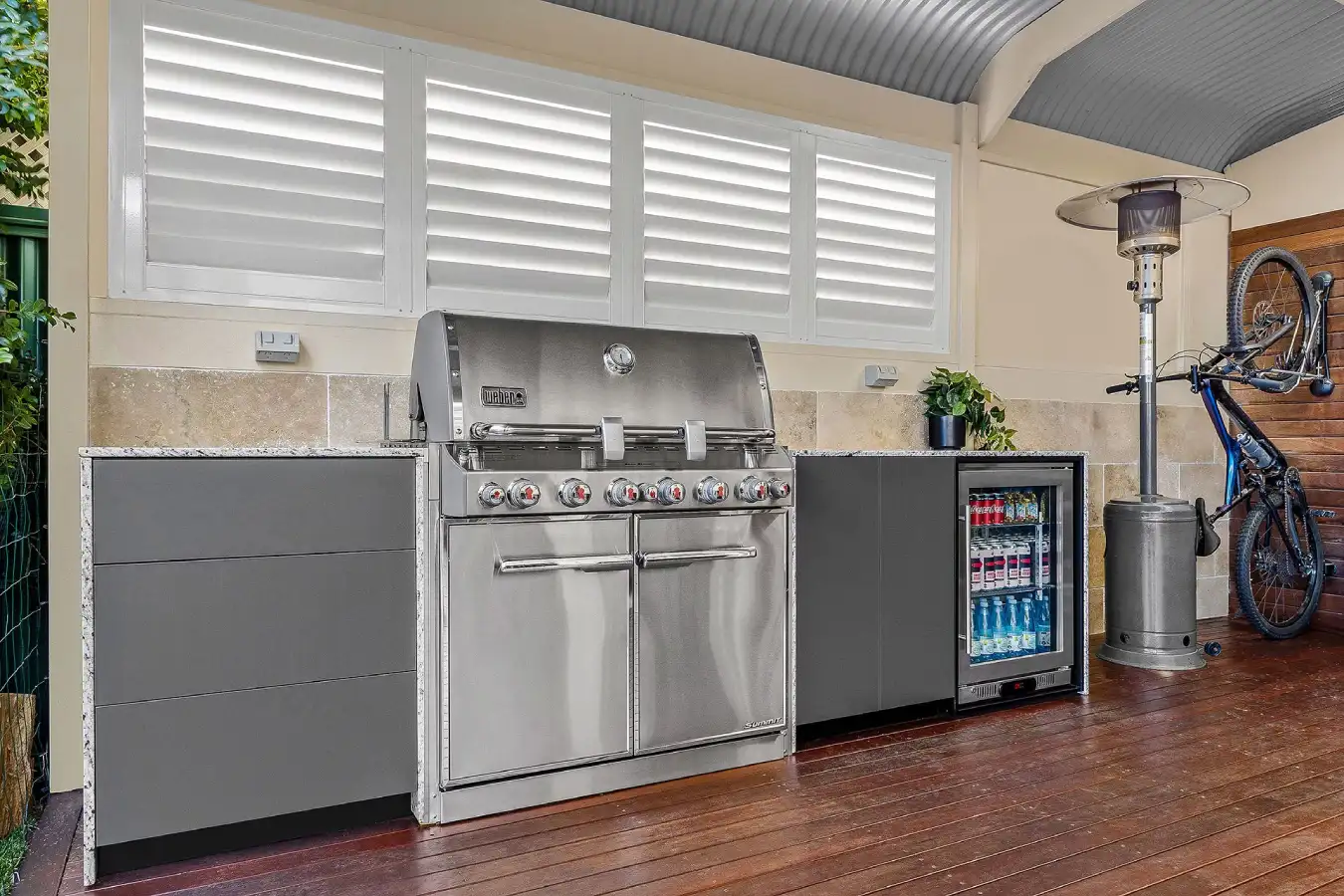 Weber Outdoor Kitchen: The Ultimate Outdoor Cooking Experience
Craft your ideal outdoor living space with a personalised Weber Outdoor Kitchen from The Outdoor Cook. Engineered in Australia and built from the finest quality materials, we assist in designing an exceptional outdoor culinary space that complements your distinct area and style preferences. No matter if you're a veteran grill connoisseur or a casual weekend barbecuer, a Weber Kitchen will enhance your outdoor cooking journey to unparalleled levels!
We'll Help You Design Your Dream Kitchen with our Design App
At The Outdoor Cook, our kitchen experts stand ready to assist you in crafting your dream outdoor culinary space, offering options to accommodate every area and design concept. With our cutting-edge kitchen designer tool, we'll collaborate with you to select an optimal mix of modules, hues, and appliances, creating an eye-catching and practical area. With a plethora of colours and alternatives on offer, such as natural granite worktops and waterfall edges, your bespoke kitchen will truly echo your individual style.
Designing starts here!
Constructing your new Weber Outdoor Kitchen is straightforward. To begin, choose your barbecue.
Then select your ideal modules, from cupboards, drawers, alfresco bar fridge, sinks and wok burners
Midnight Black
Pebble Grey
Rose White
Building your new Weber Outdoor Kitchen is simple. First, select your barbecue
Sentry Grey
Split Cedar
Mortar White
Manganese Black
Weber Family Q Built-In: A Perfect Addition to Your Outdoor BBQ Kitchen
The Weber Family Q Built-In barbecue serves as an ideal focal point for your outdoor BBQ kitchen. Renowned for its adaptability and efficiency, the Weber Family Q provides a spectrum of culinary opportunities, including grilling, roasting, and baking. With a Weber Family Q Built-In, you gain the advantage of a superior barbecue that effortlessly blends with your kitchen layout.
Summit E-660 Six Burner and E-460 Four Burner Models
Discover the pinnacle of outdoor culinary luxury with the elegant and high-quality Weber built-in Summit E-660 Six Burner and E-460 Four Burner models. These superior built-in BBQs deliver unparalleled performance and exceptional features, marking them as the ideal centerpiece. With substantial cooking space, potent burners, and numerous additional features, the Summit E-660 and E-460 models elevate your outdoor cooking and entertainment experience. By opting for a Weber Summit built-in BBQ from The Outdoor Cook, you're investing in top-tier quality, ensuring your outdoor kitchen remains a standout attraction for the years ahead.
Choose from a Wide Range of Benchtop Colours, Cabinetry and Drawers
Personalise your Weber kitchen with our impressive range of countertop shades and cabinetry finishes. Choices encompass Midnight Black, Rose White, Pebble Grey, Manganese Black, Split Cedar, Mortar White, and Sentry Grey. Combine your preferred options to craft a unique and welcoming outdoor living space. Weber outdoor kitchens are fabricated using top-grade materials and finishes, delivering the renowned Weber quality married with the aesthetic you adore.
Expand Your Custom Outdoor Kitchen Design with Wok Burners, cupboards and Additional Modules
Round off your bespoke Weber Kitchen with our variety of available modules tailored to your space, like wok burners, drawers, and cupboards. These additions offer added storage and flexibility, enabling you to construct a truly personalised area that aligns with your cooking preferences and spatial needs. Single modules maintain a standard size, ensuring they're effortless to integrate into your design.
Enjoy the Weber Difference with Our Renowned Warranty and Customer Service
Choosing a Weber Kitchen from The Outdoor Cook means you're backed by Weber's respected warranty and customer service. Our kitchens are delivered and assembled by Weber, ensuring a smooth and hassle-free experience. Plus, our friendly team members are always ready to answer any questions or provide assistance.
Visit Our Weber Store and Experience our Outdoor Kitchen Range for Yourself
Visit our store to explore the finishes and experience the quality of our Weber Outdoor Kitchen range firsthand. Our well-informed staff will assist you through the process and help you craft your dream kitchen, providing a high-resolution render to help you envisage your new space.
Embark on your journey towards the ultimate outdoor living experience with a Weber Kitchen from The Outdoor Cook. Reach out to us today to start designing a kitchen that will revolutionise your outdoor space and take your alfresco dining experience to a new level.
Simply submit the form below and our team will be in touch within 24 hours to best accommodate your needs.